Save the date – HGF 2022 – 11th & 12th June
EXHIBITORS – Booking for 2022 is open!
Head over to our BOOKING A SPACE page to be part of Herefordshire's biggest weekend Garden Festival. A summer bounty of the sustainable and the eclectic, crafted and grown, held in the glorious gardens and grounds of Hellens Manor.
Our 2021 Festival was truly amazing!
We were so delighted to shake off the Covid blues, and hold our unique Festival as a 'feet through the gate' event once again. We welcomed 3,000 visitors over the two days, to enjoy a huge array of local exhibitors, plant growers, musicians, talks and forums, creative family activities, sculpture trail, local food and drink, and so much more.
Hellens gardens, meadow and grounds thrummed with a diversity of people and activities, warmed by beautiful summer sunshine.
We shared our message of 'Together, We are the Seeds of Change', with many well attended talks and forums including; Seeding Change in our Garden, Foraging for Everyone, Make Do and Mend, Preserving the Harvest, and Zero Carbon Herefordshire.
Working together, even in the smallest of ways, we can find solidarity and solutions to sustain ourselves, all communities and our precious planet. We celebrate the fact that our Festival is leading the way in exploring how we can create a sustainable and greener approach for the benefit of all of us and our Earth.
HGF 2021 raised £13,500 for St Michael's Hospice and £4,500 for Back to the Wild CIC.
In the Get Growing Tent, 2021 well known gardeners, Hannah Genders, Tamsin Westhorpe, Terry Walton and John Cunningham, give advice and answer questions about garden problems.
'Seeding Change in your Garden'
Topics from pruning to how to deal with pests and diseases in an organic way are covered in an entertaining way.
Sit back and relax with a cup of tea and a notepad to jot down any tips!
Festival Experience

 Plan your visit

A summer festival celebrating the sustainable and the eclectic, crafted and grown, in the gardens of Hellens Manor

People, Plants & Planet

Our ethos

Showcasing inspirational ideas, organisations and plants for growing our gardens, sustaining ourselves and the earth.

Fundraising

HGF beneficiaries

We are proud to support St Michael's Hospice in Hereford and the special project Back to the Wild for young people.
Thank you to our wonderful Sponsors and Supporters
Fantastic people and companies supporting our vision
Our sponsors and supporters honour the vision of Hellens Garden Festival. Their generosity in giving time, expertise, equipment or funds is absolutely essential,  to enable the organisation of the Festival each year which raises significant donations for local beneficiaries.
Find out more
ENTRY PRICES
Adult £9
Child £2.50 (0 – 18yrs)
You must book tickets for the festival in advance – we will not take cash payments on the gate.
Tickets are available on the website.
A number of Covid restrictions remain in force so regrettably we cannot take family or group bookings this year.
Covid regulations require us to record the name and contact details of everyone with a ticket. 
Each party must comprise of no more than SIX people and all people on the same booking must arrive together – Tickets will be scanned on arrival, whilst visitors remain in their cars.
We welcome well-behaved dogs who have their owners firmly on leads and who clean up after them!
The health and safety of HGF visitors, volunteers, exhibitors and staff remains our top priority. We will continue to monitor and follow government advice throughout the planning, opening and running of Hellens Garden Festival 2021.
To help keep everyone safe the following measures are being planned:
 Online Advance Ticketing Only   

Socially distanced queueing systems at the entrance gates and at key points e.g. catering areas 

Changes to layouts and expertise in crowd management to avoid build up in popular areas

Enhanced cleaning regime and waste disposal 

Hand sanitiser available to staff and visitors at strategic points

Cashless transactions where possible

We will be spacing out our exhibitor stalls as much as is possible to allow for social distancing.
We ask that everyone visiting our shows please familiarise themselves with the latest Government advice before they attend.  Please note: If you are feeling unwell or experiencing symptoms associated with Coronavirus (Covid-19) you will not be permitted entry to the show.
Please note: this page will be regularly updated in accordance with Government advice. 
Free stewarded parking              Beautiful gardens & grounds to explore         Free talks and workshops          
LOTS TO DO FOR ALL THE FAMILY
Help us to reduce our impact on the environment –  Bring re-usable coffee cups, water bottles and bags.
Accessibility;  Please let us know, in advance, if you need help when you arrive.  We will endeavour to do all we can to make your visit a good experience.
Accessibility Information
About Hellens: 
Hellens Garden Festival is hosted in the gardens and grounds of Hellens Manor. The Festival settles gently within the landscape of lawns, meadow and paddocks. The rare 17th century octagonal dovecot, a physic garden, yew labyrinth, herb and kitchen gardens, woodlands and ponds are delight to the eye and nourishment for one's spirit.
Tours of the manor house at 11am, 1pm and 3pm Saturday and Sunday of the festival.
Tickets must be booked online BEFORE the weekend – https://www.hellensmanor.com/house-tours
£9 for adults
FREE for anyone in full time education
Hellens, Much Marcle, Nr Ledbury, Herefordshire.
HR8 2LY
Hellens is owned by The Pennington Mellor Munthe Trust (charity no. 283266).
For more information please go to hellensmanor.com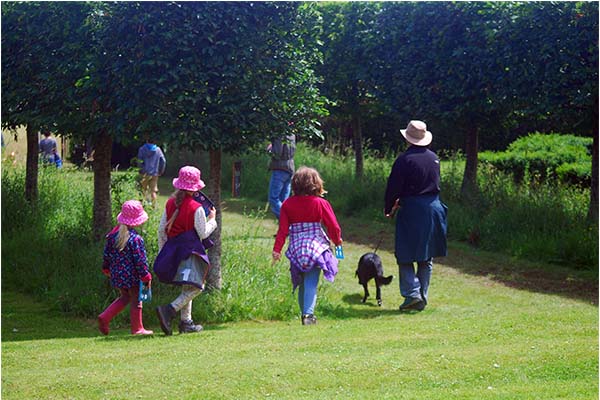 For more information about what is going on in Herefordshire, where to eat, where to stay while you are visiting us at Hellens and the Hellens Garden Festival please visit  www.eatsleepliveherefordshire.co.uk