We are optimistic and excited planning Hellens Garden Festival – 12th & 13th June 2021!
Exhibitor booking is now OPEN and new online booking for visitors will open in spring.
Save the date and look forward to safely enjoying a summer bounty of the sustainable and eclectic, the crafted and grown, in the summertime beauty of Hellens gardens and grounds.
Festival Experience

 Plan your visit

A summer festival celebrating the sustainable and the eclectic, crafted and grown, in the gardens of Hellens Manor

People, Plants & Planet

Our ethos

Showcasing inspirational ideas, organisations and plants for growing our gardens, sustaining ourselves and the earth.

Fundraising

HGF beneficiaries

We are proud to support St Michael's Hospice in Hereford and the special project Back to the Wild for young people.
Hellens Garden Festival Re-Imagined 2020
Following a hopeful rescheduling of the Festival from June to 22-23rd August, Covid continued and so we enthusiastically decided to Re-Imagine the Festival and a Virtual, Online Event was born. We embraced the challenges of this new medium and were delighted to share our offer with many, many 'visitors'. We had a jam packed weekend of creative, engaging and pertinent talks, live forums, workshops & films.
All our Virtual events are still available on our Hellens Garden Festival YouTube Channel to watch and enjoy.
We launched our Just Giving page and to complement our digital weekend, we curated a month long Sculpture Trail and Art Exhibition in Hellens Manor gardens and grounds.
Donations to this Trail, sponsor support and sculpture commissions were generous and we are delighted that we are able to donate
£6,700 to St Michaels' Hospice &
£2,233 to Back to the Wild CIC projects
We are very grateful to all the people who contributed and supported our Re-Imagined Festival; it was an adventure!
HELLENS: A Stroll through the gardens & grounds – An original Film made by Will Griffiths for HGF Reimagined 2020
Thank you to our wonderful Sponsors and Supporters
Fantastic people and companies supporting our vision
Our sponsors and supporters honour the vision of Hellens Garden Festival. Their generosity in giving time, expertise, equipment or funds is absolutely essential,  to enable the organisation of the Festival each year which raises significant donations for local beneficiaries.
Find out more
ENTRY PRICES
Adult £8
Child £2.50 (under 16)
Family £18 (2 adults and up to 4 children)
With so much to see and do, You can buy a ticket for BOTH festival days:
Adult £14
Child £4 (under 16)
Family £30 (2 adults and up to 4 children)
Please bring CASH – we do not have a card facility on the gate.
We welcome well-behaved dogs who have their owners firmly on leads and who clean up after them!
---
Group discounts are available if booked in advance:
£7 per adult for a group booking of 10 people or more.
We have no on site parking for coaches, only a 'drop off' facility.  Please contact us to arrange a time slot or if you need help arranging local coach parking.
Please note, the Garden Festival entrance ticket does not cover tours of the Manor House – see additional tour prices below.
Free stewarded parking              Beautiful gardens & grounds to explore         Free talks and workshops          
LOTS TO DO FOR ALL THE FAMILY
Help us to reduce our impact on the environment – Please car share where you can. Bring re-usable coffee cups, water bottles and bags.
Accessibility;  Please let us know, in advance, if you need help when you arrive.  We will endeavour to do all we can to make your visit a good experience.
Accessibility Information
About Hellens: 
Hellens Garden Festival is hosted in the gardens and grounds of Hellens Manor. The Festival settles gently within the landscape of lawns, meadow and paddocks. The rare 17th century octagonal dovecot, a physic garden, yew labyrinth, herb and kitchen gardens, woodlands and ponds are delight to the eye and nourishment for one's spirit.
FREE for anyone in full time education
Hellens, Much Marcle, Nr Ledbury, Herefordshire.
HR8 2LY
Hellens is owned by The Pennington Mellor Munthe Trust (charity no. 283266).
For more information please go to hellensmanor.com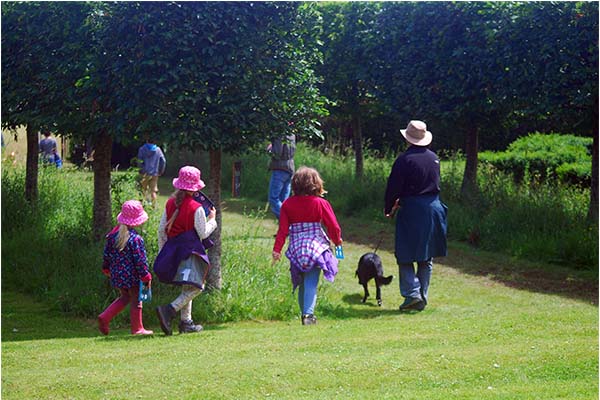 For more information about what is going on in Herefordshire, where to eat, where to stay while you are visiting us at Hellens and the Hellens Garden Festival please visit  www.eatsleepliveherefordshire.co.uk