Winter silence seeps through the earth, allowing hidden seeds, in fierce unseen movement, to gather and grow their energy within, ready to burst forth in Spring.  The Hellens Garden Festival team too are preparing; laying out plans, pulling ideas and talks together, booking in exhibitors, dreaming of summer sunshine.
If you would like to be involved in the 2020 Festival – sponsor, exhibitor or volunteer – please get in touch.
'Together, we are the Seeds of Change'
is our theme for 2020 and the Festival will grow and unfold, just as Winter will slip into Spring and Summer, bringing untold delights and treasures.
Be sure to mark the date in your new diary and watch this space for more information about What's On!
10am-5pm    13th & 14th June 2020
Hellens Manor, Much Marcle, Herefordshire.
Calling all exhibitors – Booking for Hellens Garden Festival 2020 is open!
Please head over to the 'Booking a Space' page for more details and be part of Herefordshire's biggest weekend Garden Festival.
Our 2019 Festival was a great success, despite all the British climate had to throw at us!
'Hands in the Soil, Good for the Soul' captured the imagination of over 2,500 visitors and we raised a record £16,000 for our beneficiaries.
Find out more about past festivals here
Festival Experience

 Plan your visit

A summer festival celebrating the sustainable and the eclectic, crafted and grown, in the gardens of Hellens Manor

People, Plants & Planet

Our ethos

Showcasing inspirational ideas, organisations and plants for growing our gardens, sustaining ourselves and the earth.

Fundraising

HGF beneficiaries

We are proud to support St Michael's Hospice in Hereford and the special project Back to the Wild for young people.
Thank you to our wonderful Sponsors and Supporters
Fantastic people and companies supporting our vision
Our sponsors and supporters honour the vision of Hellens Garden Festival. Their generosity in giving time, expertise, equipment or funds is absolutely essential,  to enable the organisation of the Festival each year which raises significant donations for local beneficiaries.
Find out more
---
ENTRY PRICES
Adult £7
Child £2.50 (under 16)
Family £16 (2 adults and up to 4 children)
You can buy a ticket for BOTH festival days:
Adult £12
Child £4 (under 16)
Family £24 (2 adults and up to 4 children)
Please bring CASH – we do not have a card facility on the gate.
We welcome well-behaved dogs who have their owners firmly on leads and who clean up after them!
Free parking          Free talks and workshops
LOTS TO DO FOR ALL THE FAMILY
Please car share where you can
---
Group discounts are available if booked in advance:
£6 per adult for a group booking of 10 people or more.
We have no on site parking for coaches, only a 'drop off' facility.  Please contact us to arrange a time slot or if you need help arranging local coach parking.
Please note, the Garden Festival entrance ticket does not cover tours of the Manor House – see additional tour prices below.
About Hellens: 
Hellens Garden Festival is hosted in the gardens and grounds of Hellens Manor. The Festival settles gently within the landscape of lawns, meadow and paddocks. The rare 17th century octagonal dovecot, a physic garden, yew labyrinth, herb and kitchen gardens, woodlands and ponds are delight to the eye and nourishment for one's spirit.
Tours of the Manor house at 1pm, 2pm and 3pm daily during the festival. Tickets will be available for your guide 20 mins before the tour.
Entry costs £9.50 for adults, £7.50 concessions & students, free entry for children under 18 (accompanied by a paying adult).
Hellens, Much Marcle, Nr Ledbury, Herefordshire.
HR8 2LY
Hellens is owned by The Pennington Mellor Munthe Trust (charity no. 283266).
For more information please go to hellensmanor.com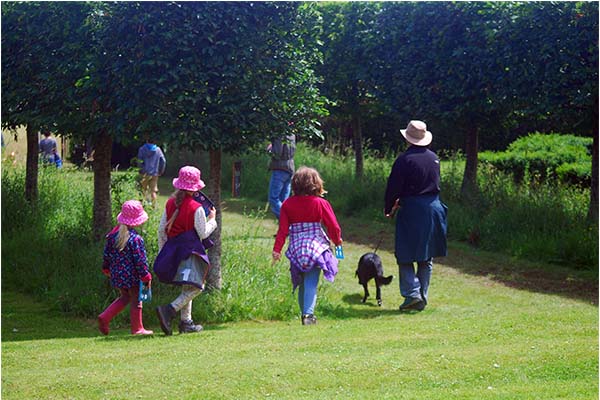 ---
Accessibility ~ We are here to help
Please let us know if you need help when you arrive and we will endeavour to do all we can to make your visit a wonderful experience.
Disabled access
We have designated disabled parking areas. The site is largely accessible to wheelchair users and people with walking difficulties.
Some areas can be a bit boggy, there is a good deal of gravel and there are lots of uneven surfaces, so care is needed.
Please note ;  Due to their historic nature, The Manor House and Tearoom are unfortunately not wheelchair accessible.
---
---
For more information about what is going on in Herefordshire, where to eat, where to stay while you are visiting us at Hellens and the Hellens Garden Festival please visit  www.eatsleepliveherefordshire.co.uk
Their message echoed our belief, that if each person can respect, conserve and creatively use resources, we can all contribute to a better world. Visitors from 8- 80 were entertained by Martin Kizko, the UK's green poet, weaving rhymes and lessons into glorious and funny poems. Others inspired by local wildlife and waterways experts, who highlighted the importance of conservation of our local rivers.
It was wonderful to hear visitors comments: ' a lovely festival in beautiful surroundings', 'came away with plants that we wouldn't be able to find elsewhere locally', 'so much to see, hear and do for all the family'.
The Festival experience included engaging talks on a variety of topics: 'Hedgehogs in Herefordshire', Dowsing, Foraging Feasts, and 'A Taste of Physic Garden teas'. Visitors meandering along the sculpture trail created a wave of movement through the meadow; it was a sight to behold from the East lawn, where a mesmerising spiral mandala evolved over the two days. Children were entertained and engaged, making clay fish, seed bombs, tactile mud walling and water filtering in the Back to the Wild glade, storytelling, 'lucky dipping' and following the fish trail. As music curated by the Pumpkin Sessions played on, local cider, delicious food and a great deal of ice cream was enjoyed and a gentle air of contentment settled throughout the Festival. An owl emerged from a block of wood carved by 'chainsaw Sam'; Say it with Wood showcased their traditional vintage paling machinery and biochar, alongside talented local artists teaching blacksmithing, contemporary and traditional woodworking and willow weaving. The cedar lawn was abundant with beautiful blooms and unusual plants.
As replete, happy visitors and satisfied exhibitors made their way home in the warm Sunday sunshine, a quietness descended on the Hellens landscape, the mandala spiral glowing in the evening light. Another year's Festival completed.